L.N. Tallur /Smoke Out
December18,2017 – January 18, 2018.   Gallery Chemould  Prescott Road,  Mumbai.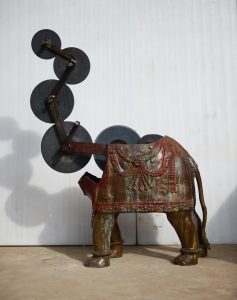 http://www.gallerychemould.com
L N Tallur returns to Chemould Prescott Road after his last show in the gallery in 2009 The first ever solo exhibition that Tallur held was indeed in the small space of Gallery Chemould, then on the first floor of the Jehangir Art Gallery way back in 1999 LN Tallur has come a long way having had extensive solo and group exhibitions from New York to China in the past 15 years. He shares time between Seoul in Korea and Kundapur in Karnataka, India with independent studio practices in both places. The work produced in Korea could be quite specific to the nature of production possibilites in Seoul, while his studio in India is brimming with work that is handcut, or carved or milled; sculptures that can be best made in a situation that allows one to be labour intensive.
In the current exhibition titled, "Smoke Out", the instruments and methods of communication are as much the subject of Tallur's work as its symbolic content.

They provide a fascinating insight into the processes and materials with which objects are made now, and how they rely on the accumulated knowledge of how they have been made through history.
The venue where these works do their job, museums—where they eventually land up and reach out to the public—have their own processes and methods by which the objects are made to live on. Tallur is equally interested in those.
An intimate knowledge of material is not something that is the requirement of an artist alone, but also that of the museum conservator. For a sculptor who also trained in museology, his works equally observe how each thing has its process of decay written into it. The process of creation has its aesthetics as do rot and disappearance. Tallur invites us to observe and participate in this with poetic felicity.
The artistic communication of this naturally forces one to think of symbolism, metaphor, iconography and language. Hefty matters, deeply understood but communicated with tremendous wit. And here is where Tallur takes us on journeys that tie tradition with the contemporary that often provoke questions about the future.