NATURE MORTE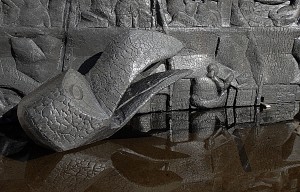 A-1 NEETI BAGH, NEW DELHI 110 049 INDIA
Telephone: (91) 11-4174-0215 & 11-4068-7117
info@naturemorte.com / www.naturemorte.com
PRESS RELEASE
L.N. Tallur: "UKAI (Cormorant Fish Hunting)"
Opening on Saturday, January 11th from 6 to 8pm.
The exhibition continues to Saturday, February 8th, 2014
Gallery hours are Monday through Saturday, 10am to 6pm. Closed Sundays.
Special hours during the India Art Fair will be:
January 29, 30, 31 and February 1st : 10am to 8pm and Sunday, February 2nd : 10am to 8pm.
Nature Morte is pleased to present an exhibition of new works by the sculptor L.N. Tallur.
One of India's most promising young sculptors, L.N. Tallur has become known for recycling the classical figurative sculpture of Asia into surprisingly irreverent constructions which comment on the passage of time, the follies of human endeavors, and the absurd longings of nostalgia and consumerist sentimentality.
The title of the show refers to the sport of fishing by employing cormorant birds (Ukai in Japanese), a technique developed in medieval China and Japan which travelled to Europe in the 17th Century. In order to control the cormorants, the fisherman ties a snare near the base of the bird's throat which prevents it from swallowing fish larger than a certain size, enabling the fisherman to retrieve his catch by bringing the bird back to his boat. The artist sees this as a metaphor for the manipulations of human greed and, more specifically, its currently popular manifestation in the guise of out-sourcing labor through digital telecommunications.
The sculptures in the exhibition range from manipulated figures in yogic poses or harm's way, reconstituted machines that equate labor with violence, carved wooden reliefs picturing a scorched post-industrial society, and terracotta meditations on the strange entanglements of history. In all, L.N. Tallur displays prodigious skills involving the assemblage of materials, a rather baroque approach to composition, a susceptibility to rigmarole, and an elevated appreciation of mischief.
L.N. Tallur was born in 1971 in the south Indian state of Karnataka. He received a BFA degree in Painting from the Chamarajendra Academy of Visual Arts in Mysore in 1996, an MFA degree in Museology from the MS University in Baroda in 1998, and an MA in Fine Art from the Metropolitan University in Leeds, UK in 2002. Solo shows of his works have been mounted at the Jack Shainman Gallery, New York (2013); Nature Morte, Berlin (2012), Nature Morte, New Delhi (2011); Arario Gallery, Beijing (2010); Chemould Prescott Road, Mumbai (2009); Arario Gallery, New York (2008); Arario Gallery, Seoul (2007); Bose Pacia, New York (2000); and Chemould Gallery, Mumbai (1999). He is the recipient of the Sanskriti Award for Art from the Sanskriti
Foundation of New Delhi in 2003 and the Skoda Prize Award in 2012, this for his solo exhibition entitled "Quintessential" at the Dr. Bhau Daji Lad Museum in Mumbai in 2011. His works were included in the 7th Asia Pacific Triennale at the Queensland Art Gallery in Brisbane, Australia in 2012 and will be part of the upcoming Berlin Biennale in 2014. His solo exhibition entitled "Balancing Act" is currently on at the SCAD Museum of Art in Savannah, Georgia, USA, until March 23, 2014. The artist divides his time between India and South Korea.
Nature Morte is located in central South Delhi near Siri Fort Auditorium and is open daily from 10am to 6pm, closed on Sundays. For more information or press photographs, please contact Jyotsna Sharma at (011) 4174-0215 or Rajeev Dhawan at (011) 4068-7117. Information and images of the works in the show and the artist's complete CV can be found on our website at www.naturemorte.com.